Investment strategy
Investments are spread across most markets, countries and currencies to achieve broad exposure to global growth and value creation. The fund has a long-term investment horizon and limited liquidity needs.
The investment strategy aims to take advantage of the fund's long-term horizon and considerable size to generate high returns and safeguard wealth for future generations. The fund is to be invested responsibly within its overall financial objective. The aim is to have diversified investments that bring a good spread of risk and the highest possible return subject to the constraints set out in the mandate from the Ministry of Finance.
The strategy has evolved over time on the basis of expert reviews, practical experience and in-depth analysis. Major changes require parliamentary approval. There is broad political agreement that the fund should not be a political instrument of foreign or climate policy.
INVESTMENT MANDATE
The mandate specifies which markets the fund can be invested in, and sets limits for allocations to different asset classes. It reflects an understanding of how markets function, as well as the fund's purpose and characteristics.
The fund's benchmark index
The benchmark index is set by the Ministry of Finance on the basis of indices from FTSE Group and Bloomberg Barclays Indices. The equity allocation in the strategic benchmark index has been set at 62.5 percent, with fixed income accounting for the remainder. These allocations are subject to market, sector and currency weights. The Ministry of Finance has decided to increase the equity share in the benchmark to 70 percent. The increase will be implemented gradually.
Norges Bank may also decide that the fund should invest in unlisted real estate, up to a maximum of 7 percent of the fund's investments.
The mandate determines an actual benchmark index may deviate from the strategic benchmark index as a result of general market movements. Furthermore, there is a limit to deviation from the actual benchmark index within an expected relative volatility of 1.25 percentage points. Expected relative volatility measures how much the return on the fund can be expected to deviate from the return on the benchmark index in a normal year.
Norges Bank may invest different from the actual benchmark index in order to exploit the fund's characteristics and advantages. It also provides an opportunity to make the management of the investment portfolio more cost-effective.
Rebalancing
If the equity allocation in the actual benchmark index moves significantly higher or lower than the strategic allocation, this will result in a different risk and return profile to that which has been agreed and is desired. There are therefore rules on rebalancing to return the equity allocation to 62.5 percent if it deviates from the strategic allocation by more than 4 percentage points.
OUR investment STRATEGIES
The management of equity and fixed-income investments is organised into three main strategies - fund allocation, security selection and asset management, while real estate is managed separately. These strategies are complementary.
The reference portfolio for equities and bonds has been constructed on the basis of the fund's benchmark index. The purpose of the reference portfolio is to take greater account of the fund's special characteristics and objective. We expect that this will achieve a better trade-off between expected risks and returns over time. The reference portfolio aims to increase diversification and define exposure to more return drivers.
The reference portfolio is a starting point for the fund's investments and specifies the fund's overall market and risk exposure in the medium-to-long-term.
Allocation decisions
Allocation decisions are made when rebalancing the reference portfolio's exposure to a number of return drivers, the fund's exposure to emerging markets and various factor strategies. For these markets and strategies, it is necessary to adapt the reference portfolio to achieve the desired exposure for the fund.
Security selection
Security selection is about company-specific investment management based on long-term, qualitative and quantitative analysis of sectors and companies. Stocks and corporate bonds are part of this strategy, as well as specialist sector mandates, and a few broad cross-sector mandates. We also award external management mandates to managers with specialist expertise in clearly defined investment areas where it is not appropriate to build up in-house expertise. This applies particularly to small- and mid-cap companies and emerging markets. Managers look to generate an excess return for the fund through analysis of specific markets and companies.
Asset management
Asset management is about achieving the desired market and risk exposure as cost effectively as possible. This strategy covers responsibility for managing the broad equity and fixed-income portfolios, executing securities trades and managing cash, currencies and securities lending. We aim to avoid making purchases and sales that coincide with changes in the benchmark index. We also aim to generate a return from systematic risk factors and pricing differences between securities with the same characteristics, and to minimise overall transaction costs.
Real estate management
Our strategy for real estate management is to create a global, but concentrated, property portfolio restricted to a number of major cities in key markets. In the US, we invest mainly in New York, Washington, D.C., Boston and San Francisco. In Europe, we will continue to invest in London and Paris. We will also consider opportunities in a limited number of other European cities and in selected cities in Asia, and we will continue to invest in logistics properties in both Europe and the US.
Strategy 2017-2019 for Norges Bank Investment Management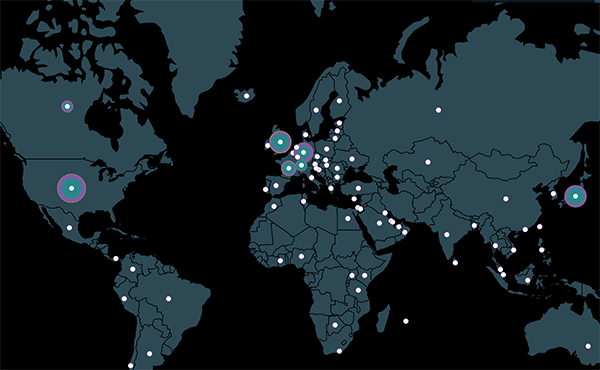 Holdings
We invest in almost 9,000 companies and have investments in 77 countries. The fund's annual holdings are available from 1998 to the end of 2016.