Fund acquires additional property in New York
11 February 2015
Norges Bank Investment Management has acquired a 45 percent interest in 11 Times Square in New York, in a joint venture with Prudential Real Estate Investors and SJP Properties.
The agreement was signed 23 January 2015, and the transaction closed 11 February 2015.

Norges Bank Investment Management acquired its 45 percent interest in the asset for 401.9 million dollars, valuing the property at 1.4 billion dollars. The asset is encumbered by a 507 million dollar mortgage, and the transaction included the assumption of 45 percent of the existing indebtedness.

The property, completed in 2010, consists of approximately 1,050,000 square foot (97,548 square meter) office tower and 50,000 square feet (4,645 square meter) of retail space. The property is located at 42nd Street and 8th Avenue with on-site access to eleven different subway lines. The building is 40 stories tall and is currently 84 percent leased.

The 45 percent interest was acquired from Prudential Real Estate Investors and SJP properties. The parties have formed a joint venture to own and operate the property, with Prudential Real Estate Investors responsible for asset management and SJP Properties responsible for managing, leasing and operating the property for the venture.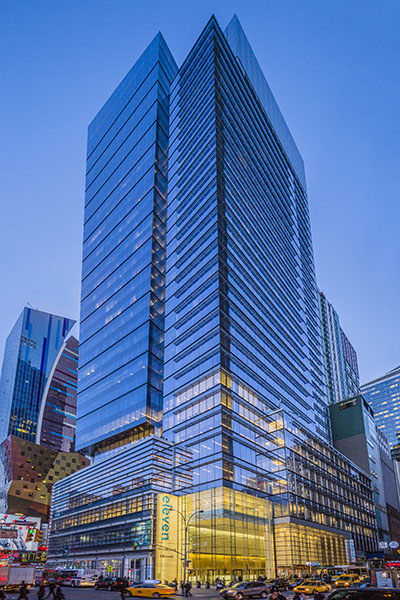 Photo: Frankphoto