Fund Enters Agreement to Buy New York Asset
The Norwegian Government Pension Fund Global has entered into a joint venture agreement with Boston Properties, Inc. to purchase a 45 percent interest in an office property in New York.
9 September 2013
The fund will acquire its 45 percent interest in the asset for $684 million, valuing the entire building at $1.52 billion (approximately 9.26 billion kroner). Boston Properties, the seller, retained a 55 percent interest in the property and will manage the building on behalf of the partnership. The agreement to purchase the interest was signed on September 6th, and the transaction is expected to close within the next 90 days. The property is unencumbered by debt, and no financing will be involved in the closing.
The 47 story property, known as Times Square Tower, occupies a full city block and is located between 41st and 42nd Street between Broadway and Seventh Avenue. It consists of 1.24 million square feet (115,200 square meters) of rentable space and was developed by Boston Properties in 2004.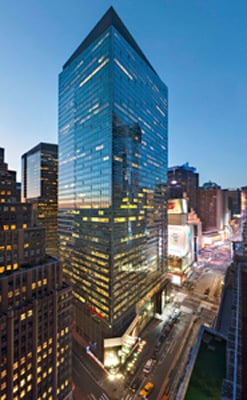 Photo by Boston Properties